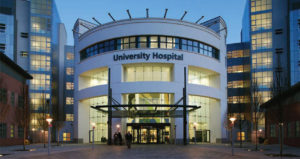 List of university hospitals
---
A university hospital is an institution which combines the services of a hospital with the education of medical students and with medical research. These hospitals are typically affiliated with a medical school oruniversity. The following is a list of such hospitals.
Argentina[]
Australia[]
See also: Category:Teaching hospitals in Australia
Australian Capital Territory
New South Wales
Queensland
Austria[]
Lower Austria
Salzburg
Styria
Tyrol
Upper Austria
Wien
Belgium[]
Antwerpen
Capital City
East Flanders
Flemish Brabant
Liège
Brazil[]
Canada[]
Alberta[]
British Columbia[]
Manitoba[]
New Brunswick[]
Newfoundland and Labrador[]
Northwest Territories[]
Nova Scotia[]
Ontario[]
Prince Edward Island[]
Quebec[]
Saskatchewan[]
Chile[]
China[]
Hebei[]
Third Hospital of Hebei Medical University, Shijiazhuang, Hebei
Hubei[]
Shanghai[]
Sichuan[]
Sichuan University Hospitals
Zhejiang[]
Hong Kong & Macau SARs[]
Please refer to sections for Hong Kong and Macau for university hospitals in the SARs.
Colombia[]
Czech Republic[]
Denmark[]
Egypt[]
Cairo[]
Alexandria[]
Assiut[]
Beni-Suef[]
Fayoum[]
Ismailia[]
Kafrelsheikh[]
Mansoura[]
Minufiya[]
Sohag[]
Tanta[]
Finland[]
France[]
Main page: Category:Teaching hospitals in France
Germany[]
Baden-Württemberg[]
Bavaria[]
Berlin[]
Hamburg[]
Hessen[]
Mecklenburg-Vorpommern[]
Lower Saxony[]
North Rhine-Westphalia[]
Rhineland-Palatinate[]
Saarland[]
Saxony[]
Saxony-Anhalt[]
Schleswig-Holstein[]
Thuringia[]
Greece[]
Ghana[]
Iceland[]
Ireland[]
Israel[]
Shaarei Zedek Medical Center, Jerusalem
Bikur Holim Medical Center, Jerusalem
Bnei Zion medical Center, Haifa
Ziv Medical Center, Safed
Wolfson Medical Center, Holon
The following hospitals in Bologna are not strictly "university hospitals" but home at least one university department for research and teaching:
Japan[]
Hokkaido[]
Tohoku[]
Kinki[]
Kyūshū[]
Jordan[]
Kenya[]
Latvia[]
Lebanon[]
Macau[]
Malaysia[]
Universiti Kebangsaan Malaysia Medical Center
Hospital University Sains Malaysia
Malta[]
Mater Dei Hospital, Msida
Mexico[]
Hospital Civil de Guadalajara, Universidad de Guadalajara
Hospital San José Tec de Monterrey, ITESM
Centro Médico Zambrano Hellion, Monterrey ITESM
Hospital Universitario Dr. José Eleuterio González, Monterrey UANL
Netherlands[]
Nepal[]
Nigeria[]
Norway[]
Austria[]
Pakistan[]
Philippines[]
Portugal[]
Singapore
Spain
Cádiz[]
Córdoba[]
Granada[]
Huelva[]
Jaén[]
Málaga[]
Sevilla[]
Madrid[]
Complutense University of Madrid[]
Autonomous University of Madrid[]
Murcia[]
Navarra[]
Somalia[]
South Africa[]
Sri Lanka[]
Sweden[]
Switzerland[]
Syria[]
Aleppo[]
Currently, the university runs 5 hospitals in the city of Aleppo:[1]
Aleppo University Hospital (AUH)
Aleppo University Cardiovascular Surgical Centre
OB/GYN Hospital named after Basil al-Assad
Al-Kindi Hospital
Oral and Maxillofacial Surgical Centre
Taiwan[]
Taipei[]
Hualien[]
Thailand[]
Bangkok[]
Hat Yai[]
United Kingdom[]
See also Association of UK University Hospitals
Aberdeen[]
Airdrie[]
Ayr[]
Belfast[]
Bradford[]
Brighton[]
Bristol[]
Cardiff[]
Coventry[]
Cumbria[]
Dumfries[]
Durham[]
Dundee[]
Elgin[]
Exeter[]
Falkirk[]
Glasgow[]
Greenock[]
Irvine[]
Leeds[]
London[]
Norwich[]
Oxford[]
Paisley[]
Plymouth[]
Stirling[]
Swansea[]
Truro[]
Wishaw[]
Wrexham[]
York[]
United States[]
Alaska[]
Alabama[]
Mobile[]
Arizona[]
Phoenix[]
Tucson[]
Arkansas[]
Fresno[]
Glendale[]
Oakland[]
Orange[]
Pasadena[]
Pomona[]
San Jose[]
Visalia[]
Colorado[]
Aurora[]
Denver[]
Danbury[]
Derby[]
Hartford[]
Meriden[]
District of Columbia (Washington, D.C.)[]
Florida[]
Marianna[]
Miami[]
Tampa[]
Georgia[]
Albany[]
Atlanta[]
Augusta[]
Macon[]
Savannah[]
Illinois[]
Chicago[]
Maywood[]
Peoria[]
Indiana[]
Gary[]
Muncie[]
Iowa[]
Kansas[]
Salina[]
Kentucky[]
Maine[]
Maryland[]
Michigan[]
Missouri[]
Nebraska[]
Nevada[]
New York[]
Ohio[]
Oklahoma[]
Oregon[]
Memphis[]
Texas[]
Utah[]
Vermont[]
Virginia[]
Hampton[]
Norfolk[]
Richmond[]
See also[]
References[]
Jump up^ http://health.usnews.com/best-hospitals/area/al/childrens-hospital-of-alabama-at-uab-6530170